Announcement: "LHC Masterclass 2017 - PUC Chile" (March, 2017)
Announcement: 3rd "Festival de Altas Energías" (October, 2015)
On national TV: MAD and JPO giving an interview on the relaunch of the LHC (April, 2015)
Peter Jenni visited PUC (April, 2014)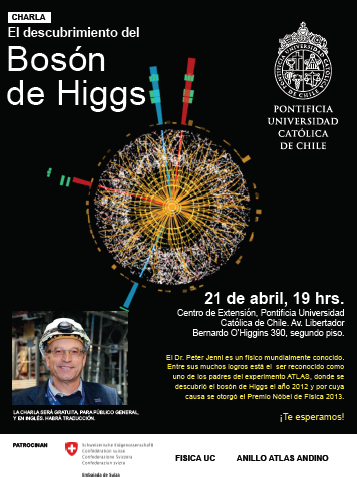 On April 21, 2014 Dr. Peter Jenni gave a talk about Higgs boson's discovery at PUC. Peter Jenni is one of the "founding fathers" of the ATLAS experiment. Do you want more information about Dr. Jenni? click here!
In addition, Dr. Jenni recieved an honorary degree from the Pontificia Universidad Católica de Chile. Check the official web site of the university and find more information about this important event: UC News
PARTICLE FEVER - Official Trailer (2014)
If you want to know more about particle physics, watch this trailer!
Meet the group